Team Building & Executive Retreats
Team Building, Executive Retreats, & Virtual Team Building
In the midst of turbulence, even organizations with strong performance must be agile enough to spot emerging trends and pivot to seize opportunities.
We offer a shimmering collection of facilitated business team building simulations to foster innovation, improve team effectiveness, bounce back from setbacks, and boost bottom line results
---
...as coronavirus circles the globe, it is CEOs who've emerged as true leaders delivering real innovation in real time to confront the pandemic.

Top business leaders...(have) dropped competition-driven decision-making in exchange for collective innovation. Reinventing on a global scale means pooling everyone's ingenuity...

Forbes
Waves of Turbulence...a Tsunami of Change
The fallout from COVID-19 has unleashed waves of economic turbulence, disrupted global supply chains, ushered in a period of unprecedented uncertainty, and toppled long entrenched organizations and industries.
Effective cross-functional teamwork fosters innovation. It's a key driver of bottom line results, especially during times of turbulence.
Yet, as teams work remotley, silos become more entrenched and doing business isincreasingly complex.
Our core expertise is to design or customize and facilitate team buiding to achieve your desired outcomes.
Our powerful strategies create high performing teams that fuel business success.
Oasis = A place of calm and growth in the midst of turbulence.
Contact us today to generate soultions for your business challenges.
---
How Executive Oasis International can Help
Since 1996, Executive Oasis International, a Toronto team building, team leadership, and management consulting firm, has helped rapidly changing organizations from 19 countries:
Foster innovation.
Strengthen team cohesion.
Re-shape their corporate culture.
Bounce back from economic downturns.
Inspire teams that are tired or discouraged.
Identify and tap into growing market niches.
Break down silos and improve cross-functional teamwork
Design & execute innovative strategies to stay ahead of the competition.
We offer management consulting, executive retreats,
team building, team leadership initiatives, & keynotes for conferences.
We don't believe in "canned" approaches. We reverse engineer solutions to achieve YOUR desired outcomes and bottom line results.

A brief conversation with your sponsoring executive to pinpoint your objectives will ensure that we design the optimal solution within the scope of your budget.
---
I admire the style in which the session was conducted and the manner certainly catalyzed active participation and discussions. The real eye opener was that all participants were required to apply in a real life situation; within a specific time frame; all relevant business principles.

Ooi Joo Hong, Deputy General Manager (Marketing), Perodua Sales Sdn Bhd (Malaysia)
The retreat went well. Anne provided useful techniques and was enthusiastic and informative. The Leadership Team enjoyed themselves and learned so much about the value by each participant from our Leadership Team.

Bob Boaldin, Founder/CEO, EPICPCS, Elkhart, Kansas
The retreat went well. Anne provided useful techniques and was enthusiastic and informative. The Leadership Team enjoyed themselves and learned so much about the value by each participant from our Leadership Team.

Bob Boaldin, Founder/CEO, EPICPCS, Elkhart, Kansas
Anne was the light at the end of the tunnel, when I was in my corporate rat race. She stood for excellence, creativity and personability. I was surrounded by red tape, goverance and systems. I owe much of my success to teachers along the way and Anne was one of the early pioneers who are unforgettable, impressionable and represent a "life defining moment" in my journey.

Tracey Parnell, C.O.O., Executive Coach, Author & Speaker, Creativity Guaranteed
Great selection of contests, right combination of competition and fun....provided a great opportunity for teambuilding in a fun and semi-completive environment. It was very professionally organized.

Mark Wakefield, Vice President, Xerox Canada
Why an Oasis?
An oasis is a metaphor for the impact we aim to have on our clients.
From time immemorial, weary travellers have searched for next oasis to refuel, re-chart their course and find the strength to continue their journey.
In the same spirit, Executive Oasis International creates a safe space for corporate teams to pause, refuel, and pick up tools and strategies to help them on their journey to success.
We design, create, and facilitate powerful business simulations based on your challenges and desired business outcomes.
---
---
We'll Bring Our Oasis to You
Unfortunately, until coronavirus is over and countries remove travel bans, we can only offer in-person services in Canada. We can deliver many of our simulations virtually.
We have served clients from 19 countries including Canada, USA, Jamaica, Barbados, Dominica, Singapore, Malaysia, Thailand, United Arab Emirates (Dubai), Bahrain, Saudi Arabia, South Africa, Sudan.
No matter where you are located in the world or where you want to hold your executive retreat, we fly from Toronto to expertly facilitate your executive retreats and executive team building.
---
We are a Toronto (Canada) based team building firm.
ALL inquiries are handled from Toronto. NO EXCEPTIONS!
We do NOT specialize in activities that are strictly recreational.
Important: Team Building vs Team Recreation: Here is the difference
---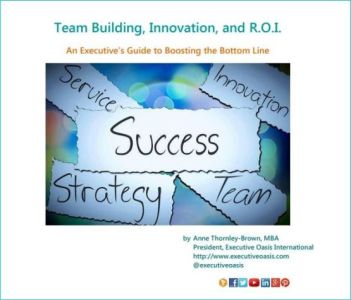 Oure-book for executives is available for purchase.
Team Building and R.O.I. for Executives (PDF)
Team Building, Innovation, and R.O.I.: An Executive's Guide to Boosting the Bottom Line is a call for a return to sanity in team building.
For a fraction of the cost of a consulting session, this 55 page e-book is designed to stimulate discussion and an exploration of how team building can, once again, be used by executives to produce bottom line results. You'll walk away with tips, tools and proven strategies to improve the effectiveness of team building and executive retreats.
Download a Preview (PDF)
Purchase the E-book (Delivered in PDF Format)
---
Our powerful strategies help companies perceive business challenges from a fresh perspective and generate innovative solutions.
We offer long & short-term organizational development consulting to:
Spearhead change initiatives
Improve your ability to spot and respond to trends
Shape an adaptive corporate culture
Break out of the fire-fighting mode
Build commitment to corporate values
We offer the convenience of one-stop shopping to design and plan executive retreats from start to finish and facilitate them expertly.
Our expert team building facilitators deliver powerful simulations and integrate them with outdoor and indoor team challenges to boost team bonding.
While our executive retreats are available globally, we have served clients most frequently in Canada, Dubai, Oman, Singapore, Malaysia, and the Caribbean (Jamaica, Barbados, Dominica).
Many companies that market "team building" actually deliver activities that are strictly recreational. These are not a substitute for real team building.
Our expertly facilitated corporate team building will give your team tools, strategies, & skills to:
Break down silos.
Foster innovation.
Improve cross-functional teamwork
Thrive in a fast paced environment
Fine-tune emotional intelligence (EQ)