Team Building E-books
Team Building Blogs & E-books
Since 2008, Anne Thornley-Brown, MBA, President, Executive Oasis International has created engaging content for our company blogs.
---
Anne Thornley-Brown, M.B.A., Blogger & Our President
Anne Thornley-Brown, President of Executive Oasis International, is a professional team building and meeting facilitator, OD specialist, keynote speaker, and well respected blogger.
Anne Thornley-Brown has an M.B.A. from York University's Schulich School of Business in Toronto, Canada. To create compelling blog posts, Anne draws on her business experience serving corporate clients from 18 countries and her travel to 24 countries.
Anne Thornley-Brown has extensive business experience in a variety of industries including banking, wireless communications, high technology, transportation, the non profit sector, and film and television.
Anne focuses on strategies to spearhead organizational change, improve team building effectiveness, and boost the R.O.I. of corporate team building, and executive retreats.
---
E-book: Team Building and R.O.I for Executives
Team Building, Innovation and R.O.I.: An Executive's Guide to Boosting R.O.I. (PDF)
by Anne Thornley-Brown, M.B.A.
Team building is one of the most effective tools that executives have at their disposal to fuel corporate success. Yet, it is often underutilized and lacking in focus. By understanding the complex nature of team building and the subtle choices that influence success, executives can unleash the power of team building to boost bottom line results.
The global geo-political is undergoing massive transformation.Uncertainty is causing many companies to curtail spending on consultants, facilitators and team building. Off-sites have become rare. Yet, foolishness and folly are taking over the corporate agenda....the more outlandish the better. Everything from axe throwing to smashing objects in rage rooms to mud obstacle courses have become the order of the day. Some of these pose a risk of serious injury....and a lawsuit!
Team Building, Innovation, and R.O.I.: An Executive's Guide to Boosting the Bottom Line is a call for a return to sanity in team building. This 55 page e-book is designed to stimulate discussion and an exploration of how team building can, once again, be used by executives as a vehicle for boosting the bottom line. You'll walk away with tips, tools and proven strategies to improve the effectiveness of team building and executive retreats.
The strategies and tips that I have included are based on the missteps that I have observed companies make over and over again during the past 20+ years.
We'll explore:
the steps involved in measuring team building R.O.I.
the main ingredients for designing effective team
the keys to planning effective team building
pitfalls to avoid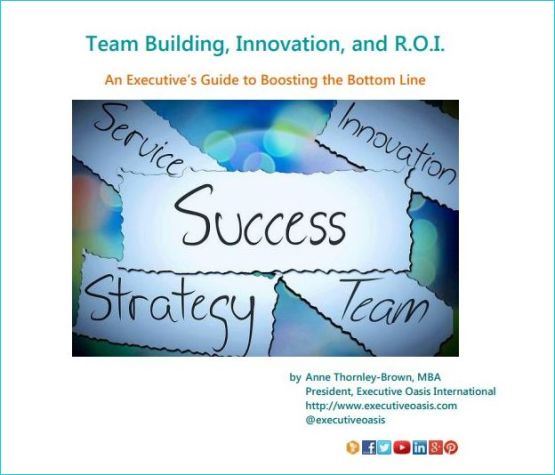 US$79.99 (PDF)
---
Please click on the "View Cart" button to check out at our secure server powered by Pay Pal, an Ebay company:
---
Anne Thornley-Brown has created a very thorough review of the issues that should be considered to make best use of the time allotted by the company and employees to achieve particular company/team goals. Most company success comes from the direction and vision at the top. There is no better place to set the direction, seize a particular "opportunity" and demonstrate the talk you walk and that you walk the talk. Congratulations on your success in the niche you have carved out. Good luck with the e-book.

Robert F. Latham,
Board Member, BSM Wireless
Chairman of the Board, Datacom Wireless
Group VP, A/President, Bell Business Solutions, Bell Ontario
Former President and CEO, Bell Cellular
Dubai
Where to Find us on Social Media


Executive Oasis International has an active and strong social media presence. Our President has managed a number of virtual communities.
LinkedIn:
12,000+ connections and growing
Twitter:
Focus: Anne launched this blog due to concerns about companies substituting recreational activities and extreme activities for "real" team building and eroding the credibility of the industry.
Anne shares tips and strategies for boosting the impact of team building without shying away from exploring team building pitfalls.
Focus: This blog has a personal touch. Anne started it to capture her experiences and photos from around the world. Her travel to 24 countries so far have definitely shaped her approach to team building and corporate event planning. Anne invites readers to follow her journey and pick up ideas for destinations to host executive retreats.
HuffPost
Focus: Personal views on a range of topics from team building to travel and the arts.
Focus: Executive Team Building and Social Media.
Where You May Have Heard us
Anne Thornley-Brown, our owner, has been interviewed by various media outlets. Here are a few examples. If you missed them you can tune in:
NPR, July, 2014:
Blogtalkradio, November, 2013:
Blogtalkradio, May, 2010:
CBC Radio 1's "The House", December, 2008
How Team Building Can Help the House of Commons


You can hear Anne around the 30:00 remark, right after Prime Minister Harper's comments about trust building


Egypt